Zhongming Zhao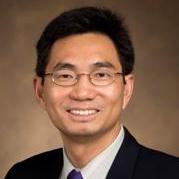 Current Affiliation: Vanderbilt University Medical Center
Research Area: Genomics, Biomedical Informatics
During his PhD work, Dr Zhao collected most of the DNA polymorphism data available at that time in world-wide human populations and performed a series of human population studies. This training kindled his long-term interest in studying complex human genetics by using integrative genomics and systems biology approaches.
Dr Zhao is an Associate Professor of both Cancer Research and Biomedical Informatics at Vanderbilt University Medical Center. He is also Chief Bioinformatics Officer at the Vanderbilt-Ingram Cancer Center (VICC). He gained his Ph.D in Human and Molecular Genetics at the University of Texas Health Science Center at Houston (UT-Houston) and achieved three MS degrees in Genetics, Biomathematics and Computer Science from Beijing University, UT-Houston and the University of Houston, respectively.
Dr Zhao's research interests span the study of complex diseases using integrative genomics and systems biology, heterogeneous and next generation sequencing data analysis, pharmacogenomics and personalized medicine. He is the recipient of a number of awards, including an Outstanding Achievement Award from the International Society of Intelligent Biological Medicine in 2011.
eLS articles by Zhongming Zhao:
Spectrum of Point Mutations in the Human Genome and Major Subpopulations